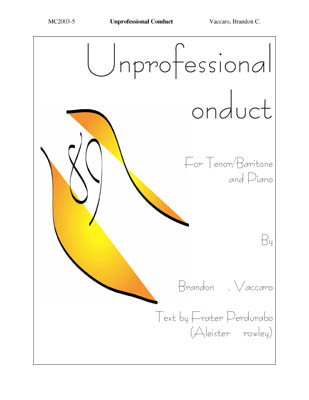 Unprofessional Conduct
for Tenor/Baritone and Piano
Audio
Score
Notes from the composer
Composed: November 19th, 2003
Text
89
KEΦAΛH  ΠΘ
UNPROFESSIONAL CONDUCT
I am annoyed about the number 89.
I shall avenge myself by writing nothing in this chapter.
That, too, is wise; for since I am annoyed, I could not write even a reasonably
decent lie.
Frater Perdurabo (Aleister Crowley)
The Book of Lies, which is also falsely called Breaks: The Wanderings
or Falsifications of the One Thought of Frater Perdurabo, which Thought is Itself
Untrue
© 1913, 2005 by Ordo Templi Orientis
Text Used by Permission
Performance History
Premiered May 30, 2004.
Charles Johnson, tenor
Chris Malloy, piano.
Recorded February 2005.
Thomas Knecht, voice
Glenn Dennis, piano.
May 2007.
Pendulum New Music series.
Patrick Mason, baritone
Carter Pann, piano.