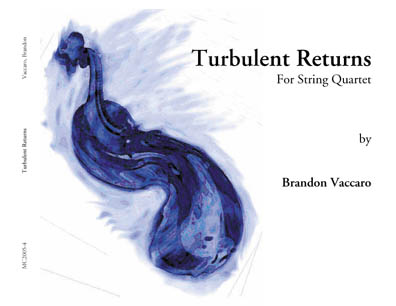 Turbulent Returns
for String Quartet
Audio
Score
Notes from the composer
Turbulent Returns is a single movement work exploring ostinati in a variety of guises. Elements of the work date from as early as 1998, but this version was completed in the fall of 2005.
The title is a three-fold reference. First, it refers to a specific return flight from San Diego. This was one of the more turbulent flights I have ever been on. By this point in the trip, my companions and I had grown weary of each others company. Thus, the second reference is to emotional turbulence at the end of a journey. The third aspect is a play on the form of the piece, a variation on "violent repetitions."
Aesthetically, Turbulent Returns draws on my diverse musical interests. The most obvious influences include neo-Primitivism, neo-Classicism, minimalism, rock, and the cartoon music of Carl Stalling.
The piece is a series of vignettes arranged as a sort of developing variation, though the thematic links are often obscured.
Performance History
Premiered March 8, 2006. Pendulum New Music Series
March 25, 2006. GAMMA-UT Conference (Austin, TX).