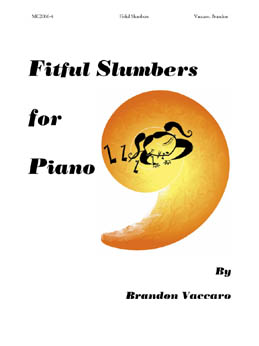 Fitful Slumbers
for Piano
Audio
Score
Notes from the composer
Fitful Slumbers was composed for María Fernanda Nieto-Pulido during the spring of 2006 and was premiered on September 21 of the same year. The collaboration between performer and composer is one of the more exciting aspects of writing music, and it has been a joy to work with Fernanda on this project.
The piece is a set of four character sketches based on sleep disorders. The first movement is called Somniloquy, or the act or habit of talking in one's sleep. It consists of a series of declamatory gestures imitating the outbursts of someone talking in their sleep. It also serves to establish the harmonic language that is used throughout the piece.
The second movement is called Somnambulism, or the act or an instance of walking or performing another activity associated with wakefulness while asleep or in a sleeplike state. It is a dreamy march, though in a compound duple meter rather than the traditional simple duple.
The third movement is called Insomnia or the chronic inability to fall asleep or remain asleep for an adequate length of time. It is a slow movement that expresses the boredom and frustration of insomnia. Was there a hint of the Brahms' Wiegenlied (Lullaby)? The movement ends as our subject finally drifts off.
The final movement is titled Bruxism or the habitual, involuntary grinding or clenching of the teeth, usually during sleep, as from anger, tension, fear, or frustration. The movement is a moto perpetuo that expresses grinding tension and stress. The harmonic language is dense and biting (no pun intended) at the beginning. As the section ends, our subject begins to wake up, and the harmonic language becomes more sonorous and relieved.
Awards
Honorable Mention, 2007 Edward Levy Prize
Regional Winner, 2007 SCI/ASCAP
Performance History
Premiered September 21, 2006
Ursula Oppens Piano Masterclass. María Fernanda Nieto-Pulido, piano.
October 18, 2006. Pendulum New Music series.
María Fernanda Nieto-Pulido, piano.
November 3 2006
Recording session
María Fernanda Nieto-Pulido, piano.
March 14, 2007. Boulder Public Library.
María Fernanda Nieto-Pulido, piano.
April 28, 2007. Doctor of Musical Arts Recital.
María Fernanda Nieto-Pulido, piano.